Presentation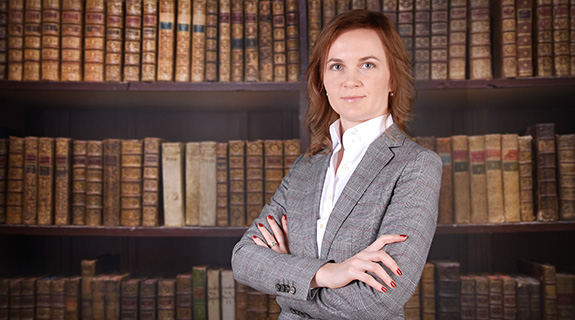 "Justice does not consist in being neutral between right and wrong, but in discovering the right and upholding it, wherever it may be, against wrong." - Theodore Roosevelt
Irina Akhmetova was born in 1983 in the city of Ekaterinburg (Russia) and has been in Portugal since 2006.
Graduated in law in Russia (1999 - Academy of Law of the Urals) and in Portugal (2007 - University of Minho), graduated in Management (2009 - Faculty of Economy of Porto) and Master in Finance and Taxation (2012 - University of Porto).
After the mandatory internship at the Portuguese Bar Association, is registered as a lawyer, with full status, since 2009. With a vast professional experience, started at the age of 18, from assistant jurist to director of the legal department, having passed the areas of audit, tax advice and investment banking services, after practicing the profession in several offices, she funded, at the beginning of the year of 2015, her law firm, based in Lisbon.
She speaks Russian, Portuguese, English and French.
She continuous training, updating annually her know-how in specialized courses. Her main focus is in the area of contracts, bonds, partnerships, foreign, administrative and tax law. The firm counts on the support of lawyers specializing in labor, family and probate law, criminal law, insolvency and notary law.
WORK METHODS
Law is a philosophical science that mediates conflicts between people, organizations and states. In situations of divergence of interests, the truth, be it political, moral, religious or scientific, varies according to time, place or point of view.
We can think of a car accident, a collision of two cars. The first driver will say that the second was speeding. The second will state that the first one has passed the red light. A person who witnessed the accident could say that the second driver had been locked in another car, leaving him no choice but to move to the first place. And another person, who noticed the accident in the window of a neighboring building, could say that the signal was actually green.
The lawyer's role is to get the client to present his truth, defending it based on arguments, evidence, reasoning and law, convincing all the interlocutors that only by giving effect to this truth will be done justice.
It is important for us to meticulously study the cases presented and to find, always together with the client, the best solution as quickly as possible.
LIFE IN PORTUGAL
Portugal is a country with a fantastic quality of life.
Excellent security conditions, vast diversity of landscapes and an ancient heritage. Beaches with golden sand, wild mountains and best golf courses. A great selection of wines and unparalleled cuisine. A mild climate and a welcoming people.
Notwithstanding the advantages, it is a country with a low cost of living.
Besides being a tourist destination of choice, nowadays Portugal offers interesting investment options.
Attractive prices in real estate, recent fiscal changes, community support and incentives in migration policy have attracted significant amounts of foreign capital in recent years.
Whatever the purpose, holiday or business, legal monitoring is important to ensure the safety of your investment.